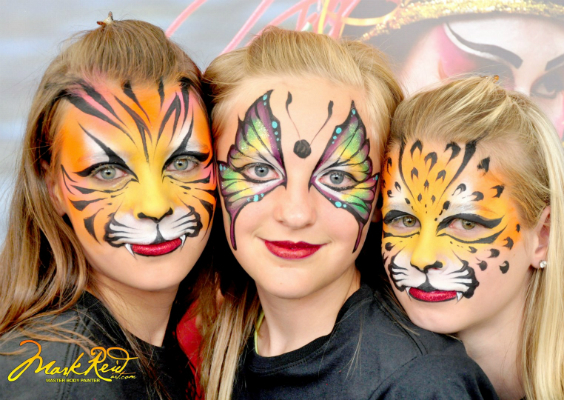 Paradise Makeup AQ
Paradise Makeup AQ, de met water geactiveerde cake make-up, is ontwikkeld door Mehron en de wereldberoemde face & body painter Jinny Houle. Doordat de make-up met water wordt geactiveerd, kun je zelf de tinten bepalen. Professionele face & body painters waarderen de kleurvastheid, het gemak van aanbrengen en de mogelijkheid om door mengen de kleuren volledig zelf te bepalen. Er zijn 6 series van 8 kleuren: Basic, Pastel, Tropical, Nuance, Brillant en Neon UV Glow. Alle kleuren zijn te verkrijgen in een grote 40 gr. verpakking of in een kleine 7 gr. navulverpakking.
De 40 gr.-verpakking is individueel afsluitbaar. Voor deze maat kun je kiezen als je wat vaker schminkt of een kleur wat vaker gebruikt. Onder het kopje paletten kun je lege paletten vinden voor deze verpakking om deze geordend op te kunnen bergen en voor je gebruiksgemak.
De 7 gr.-navulverpakking kan alleen maar gebruikt worden in combinatie met een palette! Ben je een beginner en weet je nog niet zo goed hoe vaak je zal gaan schminken, dan kun je met deze maat een persoonlijk palet samenstellen. Ook voor de gevorderde schminker kan deze verpakking een fijne aanvulling vormen voor de minder gebruikte kleuren die je toch eigenlijk niet in je assortiment wil missen. De lege paletten vindt je onder het kopje paletten.
Paradise Makeup AQ is vegan en wordt niet getest op dieren!